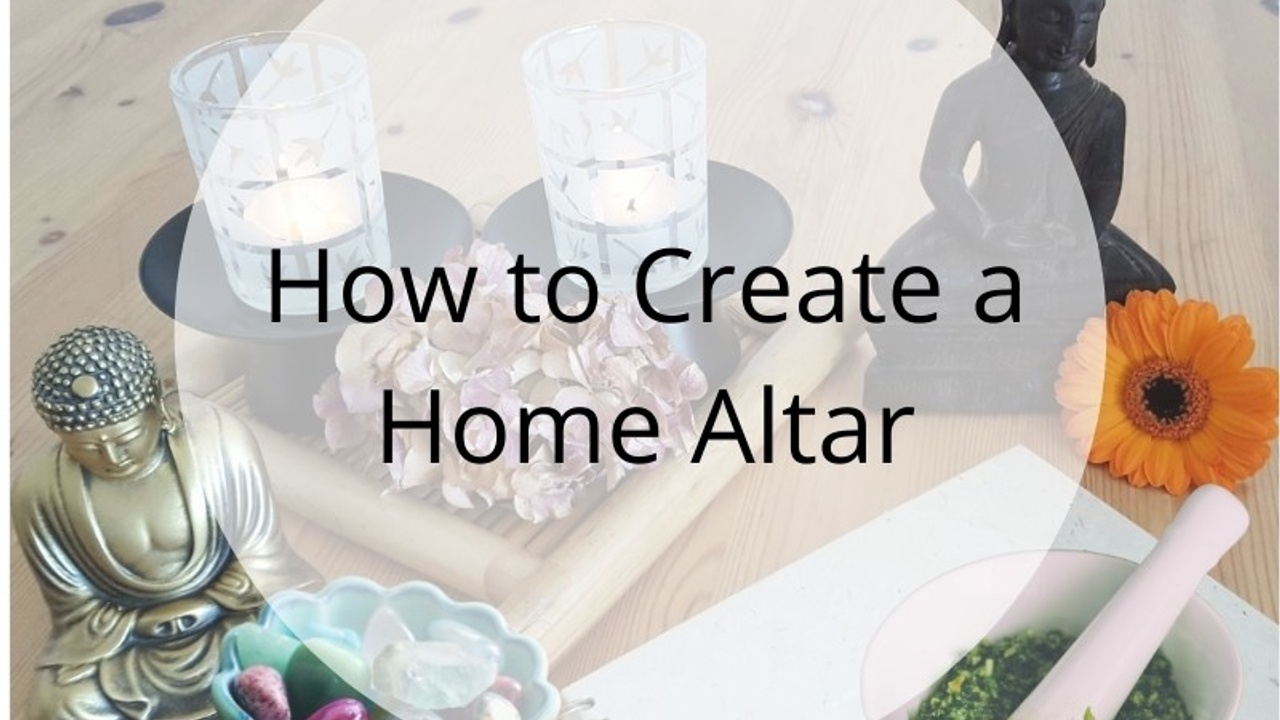 How to Create an Altar in Your Home
Altars are a great way to bring a feeling of peace and serenity to your home. They're super-easy and can serve as a gentle reminder to pause, reflect, and make space for self-care. For some, they may even be a focus for religious practices such as prayer or a place of remembrance (placing photographs of departed loved ones on an altar and lighting candles). No matter what an alters meaning is to you, it is a fantastic way to bring peace to your home, a reminder to care for yourself and to connect with nature and the changing seasons. This post will show you how to create an altar in your own home (or other space).
Where to Place an Altar
When you're thinking of how to create an altar in your home, the first thing to decide where to place it. Since it's personal to you, make sure you place it in a place that feels right to you. If there's a room where you go to meditate or practice yoga, that is a great place to start, however, you can also choose a desk, side-table, dresser, mantle, shelf, or just about any flat surface! You could even place it in a cabinet if you prefer to keep your alter private. It doesn't need to be fancy. A crate or a box is fine. You can always cover a less beautiful object with fabric to make it visually appealing.
Before you build an altar, take some time to sit in the space where the altar will be. Think about what's special and has meaning to you and make a list of things you want to include on your altar. Don't worry, there's no wrong answer here because your altar is just for you!
Questions to Ask Yourself When Planning an Altar
What items bring me peace and are meaningful or sacred to me?
How can I include aromas of the current season (maybe a pumpkin scented candle for the fall)?
What items bring me joy and light me up?
How can I incorporate seasonal elements (earth, air, water, and fire)?
How can I involve the five senses?
Things to Include On an Altar
Take time to curate things that are meaningful and beautiful to you. If you don't already own the items you want for your space, visit an antique shop, an online store like Etsy, or get creative and visit a craft store to make something yourself.
Fabric to drape over the table (or boxes) where the altar will be placed – this is a great opportunity to use the colors of the season.
Candles (especially in the Fall since the element is fire).
Incense, Sage, Infuser, and essential oils (change the scents you use to go with the season).
Water fountain
Flowers
Mala, Prayer Beads or Rosary Beads
Items from nature – (be sure to energetically ask the item permission before taking it home).
Plants
Items that hold special meaning to you (a family members' locket, a shell you found on the beach, a crystal a friend gave to you, or a stuffed animal from your childhood).
Books you enjoy notes or quotes you love or stones with a specific word you want to focus on.
Your journal and pen
Examples of Altars
Here are a couple of examples of altars I've created. The first is an alter I set-up in a cabin where I work with my clients a lot. I used a blue cloth to represent the water element, sage, and a singing bowl for the air element, a candle for fire, and a few stones and crystals for earth. I've collected all of these objects while traveling or they've been gifted to me by dear friends over the years.
Example of altars
This second picture is of my Springtime altar. While you can see many of the objects are the same (like the singing bowl, shell, and sage) I changed others out with the seasons. Spring represents the element of air so the cloth I used to drape the table is yellow and I added in a bell for sound and a dreamcatcher and wings above the table.
Second altars
Building Your Altar
Once you've collected what you want for your altar, clean the surface where you'll place everything. As far as the arrangement goes, I like to start with my central items first (for me, it's the Buddha statue) and I often place something of value on the statue as an offering). If you're placing incense, candles, etc. remember to have something nearby to light the items and you may even want to burn some sage to purify the energy of the space once set-up is complete.
Important tip: Remember to put a cushion or folded blanket in front of your altar as a place to rest (it will serve as a reminder to visit it as you walk by).
Enjoy the Process
Building an altar is a labor of love, so don't rush through it. Take time to connect with yourself and create a beautiful space that will fill your soul. At the same time, don't worry about making it perfect! Remember that you can always change it, move it to another location, or do what you need to make it just the way that you want it. Our altars (just like us) are always a work in progress.
Don't miss a beat!
Get notified when new blogs are posted!
I will never sell your information, for any reason.